---
Created and maintained by
Sean Walsh
---
This site was designed and is best viewed with a 800x600 screen resolution...
[ Sign my GuestBook ] - [ Read my GuestBook ]
[ GuestBook by TheGuestBook.com ]

Final update (for now): Saturday, November 17, 2001
Say goodbye to this page...
Coming November 22nd, 2001: a new look for the New Gods Library!
See you then!!
---
---
About the links: just pass over them with your mouse and they (should) change color. Click away and you'll be A-OK.

---
Himon's disembodied head says:


"Darkseid sucks!"
The guy standing behind Jack "the King" Kirby concurs: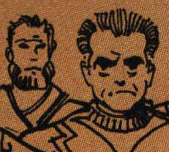 "This page be cool...!"
And Fastbak says: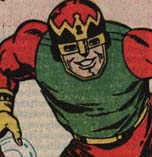 Love this page or know my wrath!!"
---
"For it is written that if a god does not sometimes observe his world through the eyes of the lice that crawl around his feet...he may one day find them dancing on his head." - Darkseid, Legends of the DC Universe #24, transcribed by Jaime Delano
"I look on existance and I see chaos. I abhor chaos. I would have order. Ordering the chaos requires a single mind. A single will. Mine." - Darkseid, Martian Manhunter #19, transcribed by John Ostrander
---
"The father of Apokalips shall meet his banished son in the red light of the fire pits."
- Jack "The King" Kirby, New Gods #1

So it is written.
So it shall be.


- transcribed by Walt Simonson in Orion #5
---

---
Just to be safe:
The New Gods Library is not copyrighted or owned by anybody (in that "I paid money for it" way). Everything here is based on the creations and property of DC Comics, to whom I bow before in homage in thanks for creating and publishing any New Gods stuff (especially since there's an ongoing series right now! Yay!)
No one has to pay to see this site; it's all free.
The New Gods are the property of DC Comics.
Created by Jack Kirby.