The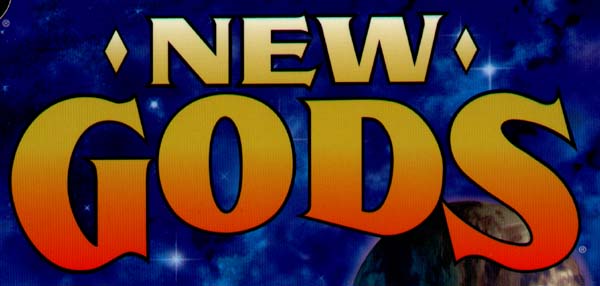 Library
---
Created and maintained by Sean Walsh
---
Himon's disembodied head says:


"Darkseid sucks...I mean, I love it!"
---
"For it is written that if a god does not sometimes observe his world through the eyes of the lice that crawl around his feet...he may one day find them dancing on his head." - Darkseid, Legends of the DC Universe #24, transcribed by Jaime Delano
---
Updated: November 26, 1999
Not too much of an update today; got lots to do over this weekend. Some new links have been added, though.

Updated: November 22, 1999
Special "Date of my birth" update

Nothing much; just wanted to brag about today being my birthday...number 23 it is!
February New Gods-related releases are below, and some other stuff on the News and Tidbits page.

Updated: November 19, 1999
Part 2 of the New Gods history by Lou Mougin is underway...
Also, check out Legends of the DC Universe #24, by Jaime Delano and Steve Pugh. Entitled "The Jump," it's a two-parter about the life and times of a deceased Hunger Dog pursuing a foe he can't (or maybe...won't?) catch. Buy ten copies...for yourself, blind relatives, pets...just buy it!! :P

Updated: November 12, 1999
It's been a busy week at work, so I kept it simple: the Appearances, Terminology and Character pages have been updated.

Updated: November 5, 1999
Welcome to the "We be f*cked" look of the NGL...at least until Mageddon is handily dealt with...I hope...
The issue summary of Takion #7 is now up...sorry if anyone was ticked that it wasn't up; I didn't have time to get it done before last week's update...I'll hopefully be getting started on some more issue summaries soon...!
Also, the history of the New Gods page has been updated with the completion of the first of Lou Mougin's two articles from Amazing Heroes (in the early 80's).

Updated: October 29, 1999
Issue summaries for Takion are up.
Next week, I hope to have some stuff from this week's JLA, about Mageddon.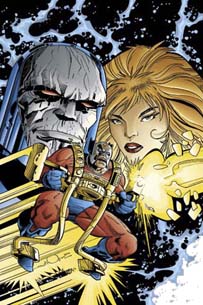 ---
Past Updates
---
If you consider yourself an expert in the area of the New Gods, your help will be greatly appreciated and you'll be credited for what you offer! E-mail me with whatever you've got that I don't!
Sean Walsh

---
New Gods-related books in January!
JLA #40
Grant Morrison/Howard Porter/John Dell
Grant Morrison's ultimate JLA story continues with Part 5 of the 6-part "World War Three" as the ultimate danger to mankind and the universe itself - Mageddon, the Anti-Sun, the Warbringer - is finally revealed! While Animal Man and Steel race to find a solution to the conflict, the hosts of Heaven gather before a special envoy and the Flash returns from the edge of reality with help for the stricken Earth. Will even the ultimate sacrifice of a Leaguer be enough to prevent the Apocalypse of Mageddon? At long last, is all hope lost? Or does the Justice League have a surprise up its collective sleeve?
Superman Adventures #42
Mark Evanier/Neil Vokes/Terry Austin
Preeeesenting the world's greatest escape artist...Mister Miracle! Who is this guy and why does he insist on plunging headlong into danger? (No fair peeking at the JACK KIRBY'S MISTER MIRACLE trade paperback for clues.) Can Superman save someone who doesn't want to be rescued?
Supermen of America #2
Fabian Nicieza/Dougie Braithwaite/Robin Riggs
More of Lex Luthor's insidious plans for his privately-run super-hero team are revealed as the thrilling new miniseries continues! What is the astonishing secret of Lockdown Six? Why has Luthor set his sights on it? And will the Supermen of America be able to protect it from...the Deep Six?
---
For a forum to vent your opinions about the New Gods and other DC characters, go to:
the DC Comics newsgroup!
---